Release name: Gladiator_Begins_EUR_PSP-ZER0
Size : 342 MB
Region: EUROPE
Publisher: Aksys Games
Developer: Goshow
Release Date: 23.06.2011
Genre: Third-Person Action RPG
Language:
Customize your own Gladiator and win your freedom! Choose from several different builds, faces, hair styles and skin tones. Depending on which gender you pick, NPCs will react differently! Ad-Hoc Multiplayer action, battle a friend using the Ad-hoc multiplayer option. Weapons and Armor Galore with over 500 plus swords, shields, spears, clubs and axes. Refine blessed weapons to make them stronger at the blacksmith.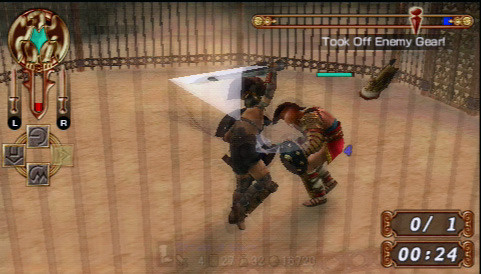 Fight for Glory and Freedom! Your Gladiator will face many trials in his/her fight for freedom. You'll encounter slaves, nobles, gladiators and furious animals.
Earn the respect of politicians and the love of the Romans! Gain a patron's favor and experience unique story paths. There are 5 different patrons to devote your allegiance to!
Develop your own signature techniques Every Gladiator has their own personal flair! Master the art of combat with dual weapons, sword & shield, hand-to-hand, and polearms.
Learn new skills to entertain the crowd like Smash, Cyclone, Drop Kick and Wild Dance!
Players now the battle map and adventure map are one and the same. What you do before battle affects the terrain, and vice-versa
download :
filesonic
wupload
enterupload